iWire

Welcome to iWire the new incarnation of the texasinvasives.org monthly e-newsletter. iWire was created to facilitate communication and exchange of information regarding invasive plants and pests in Texas. Each issue of iWire includes news items about invasive species in Texas, updates on activities of the newly formed Texas Invasive Plant and Pest Council, information about the Invaders of Texas Citizen Science program, a calendar of upcoming events and a spotlight on an invasive species of interest in Texas.

We welcome your suggestions and additions for improving this electronic newsletter. If you would like to post a news item to iWire, please email Travis Gallo, Invaders program coordinator at tgallo@wildflower.org.

Damon Waitt, Ph.D
President, Texas Invasive Plant & Pest council.

Nature Conservancy's Global Invasive Species Team Disbanded
As a result of budget cutbacks, The Nature Conservancy's Global Invasive Species Team (GIST) was disbanded in March 2009. The GIST web site along with many useful documents on invasive species control, numerous invasive species images and the recently created INVASIPEDIA are now available through Invasive.org hosted by the Center for Invasive Species and Ecosystem Health at The University of Georgia.

Austin Area Weed Working Group
Volunteer-based organizations in the Austin area are coming together on May 26th, at the Lady Bird Johnson Wildflower Center to share information about weed management tips and using volunteers to eradicate invasive plants around Austin. A Texas Invasives list serve has also been created to establish a dialog among different invasive species stakeholders. For more information or to join this list serve please click here.

Spotlight on an Invasive: Salvinia molesta (Giant Salvinia)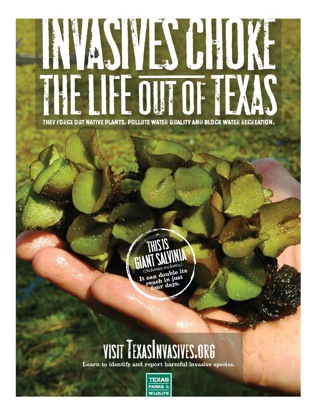 Salvinia molesta is a rootless, aquatic fern. Emergent groups of leaves (fronds), oblong and flat or semi-cupped, grow in chains and float on the water surface forming dense mats. Leaves grow in pairs and are approximately 1/2inches wide and 1 inch long. A brown, thread-like leaf hangs underwater; all join at a node along a horizontal, underwater stem. The upper surface of the green leaves is covered with rows of white, coarse hairs, acting as a water repellent. The hairs of giant salvinia are joined at the tips in an egg beater shape.
Giant salvinia is a popular aquarium plant. It was first detected outside of aquarium and landscape cultivation in South Carolina in 1995 and was was found in Texas in 1997. While Salvinia may reproduce via spores as other ferns do, U.S. populations more commonly reproduce via budding from both attached nodes or broken stems. As many as five lateral buds can be found at one node.
Populations can double every 2 weeks in the wild, and small quarter-acre ponds have been completely covered with giant salvinia in as little as 6 weeks from the point of invasion. Dense mats of salvinia shade out native aquatic species and reduce dissolved oxygen levels in the water. Agricultural water use is impacted as salvinia obstructs intake pipes for irrigation. Recreational fishing and boating may be hindered by the mats. To learn more about giant salvinia please visit our Invasive Plant Database.
Welcome Cypress Basin and new Rio Grande Valley Invaders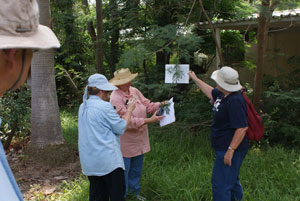 We recently took a trip to East Texas, Caddo Lake to be more specific, and trained a new group of citizen scientists. The Cypress Basin Master Naturalists chapter hosted a very nice workshop, and a few individuals were nice enough to show us around the lake to see the giant salvinia infestations. A few weeks later we went down south to the Rio Grande Valley to re-train an already existing satellite. The Rio Grande Valley Invaders hosted their second workshop at the beautiful Estero Llano State Park. Already observations are popping up on the map from these two groups, keep up the great work! (Photo by Travis Gallo: RGV Invaders)
Outstanding Citizen Scientists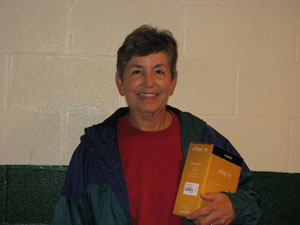 Diann Mabus (pictured) of the Cypress Basin Invaders and Matt Mortimer of the Blackland Prairies Invaders have each received a new GPS unit for being the first in their satellite to enter 50 validated observations. Both of them deserve a big congratulations and a bigger thank you. Creating a friendly competition between satellite members is always a great way for satellite leaders to increase participation. Now that Spring has arrived invasives are springing up all over. Field trips are another way to increase participation. Please email Travis Gallo at tgallo@wildflower.org if you have any ideas for competitions or want to post a field trip to the News and Events section.
Upcoming Training Workshops
There are currently two workshops scheduled for any new citizen scientist needing training, or any veteran Invaders that could just use a refreshers course. If you are interested in attending one of the following workshops, please visit our Workshops page to contact the workshop host and find more information.
Saturday May, 30, 2009
9:00am-4:00pm
Austin, TX, Austin Nature and Science Center
NOTE: Currently this workshop is only open to City of Austin Volunteers
Saturday June 6, 2009
9:00am-4:00pm
San Antonio, TX, Mission San Jose conference center
A million thanks to everyone that has been hard at work reporting in their area. With your continued hard work and support we can all help "Stop the Spread".