iWire August 2009

TIPPC News
2009 Texas Invasive Plant & Pest Conference
November 13 & 14, 2009
at Trinity University in San Antonio, TX
Registration and Abstract Submission now open. Click here for more information.

Zebra Mussels found in Texas!
Invasive zebra mussels (Dreissena polymorpha) have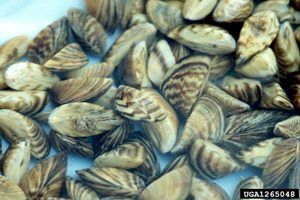 been confirmed to have spread from Lake Texoma into the head waters of Lake Lavon. On Aug. 3, live zebra mussels were found in West Prong Sister Grove Creek, in Grayson County, approximately 300 yards downstream of the Lake Texoma water transfer pipe. This creek flows into Lake Lavon, and officials fear they could spread throughout the Red River and Trinity River watersheds. "The larvae are free floating in the water column, and some were likely transported via the North Texas Municipal Water District water transfer system into West Prong Sister Grove Creek," said Bruce Hysmith, Texas Parks and Wildlife Department inland fisheries biologist for Lake Texoma. "While we have no proof, we feel certain zebra mussels are in Lake Lavon." Zebra mussels multiply rapidly and can clog water treatment plant intakes and pipes. The cost of controlling and removing zebra mussels from water intake structures can be significant. They can also cause declines in native fish, mussel, and bird populations. In the coming weeks TPWD will be working with local, state and federal agencies, reservoir controlling authorities and water districts to develop a plan for dealing with this latest invasive threat to Texas waters. For more information about the story and to learn how you can help stop the spread of zebra mussels read the TPWD news release.
New Emerald Ash Borer Brochure
The Animal and Plant Health Inspection Service (APHIS) has published a new brochure about the emerald ash borer titled, "The Green Menace". This beetle is responsible for the death or decline of tens of millions of ash trees. So far, the emerald ash borer has been detected in 13 States (Illinois, Indiana, Kentucky, Maryland, Michigan, Minnesota, Missouri, New York, Ohio, Pennsylvania, Virginia, West Virginia, and Wisconsin) and parts of Canada. You can find this new information brochure, in three different languages, at our Publication page. Take a look and learn how destructive this pest could be if it was to make its way down to Texas.
4 Possible Biocontrols for Arundo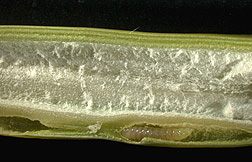 If you have driven around Texas much, you probably have noticed that Arundo donax, or Giant Reed, is out of control. It grows in almost every ditch and draw up and down I-35. "Whole riparian forests have been displaced by Arundo, and you rarely see birds or any wildlife in these dense patches of the weed," says John Goolsby, an entomologist at the Agricultural Research Service's Beneficial Insects Research Unit (BIRU) in Weslaco, Texas, who feels they may have found 4 potential bio controls to curb this pesky weed. Each of the four attacks the reed at a different place. A scale insect, Rhizaspidiotus donacis, which may be released this summer, attacks the root. The Tetramesa romana wasp attacks the main stem, weaking the plant, lessening its overall height, and causing it to form galls and put out side shoots. The Arundo fly (Cryptonevra spp.) eats the inside of new shoots, while the leaf sheath miner, Lasioptera donacis, destroys leaves. For more information about each individual control read the article released by USDA.
Native plant week
Effective September 1, 2009, Texans will have an official Texas Native Plant Week, celebrated annually the third week in October. Representative Donna Howard of Austin authored a bill, during the 2009 Legislation, entitled "An Act relating to a recognition week to celebrate Texas native plants" (CSHB 1739). The bill was sponsored in the Senate by Glenn Hegar of Katy. It passed unanimously in both houses. Governor Rick Perry signed the bill into law on June 16, 2009.
Spotlight on an Invasive: Crazy Rasberry Ants (Paratrechina sp. nr. pubens)
A new exotic invasive ant species was found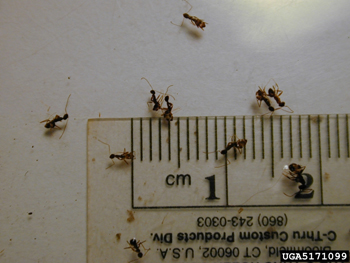 around Houston, in 2002 and has now spread through the state with human assistance, recently being reported in the San Antonio area. The ant is commonly referred to as the Rasberry crazy ant, Paratrechina sp. nr. pubens. Little is known about this ant, but the Center for Urban and Structural Entomology at Texas A&M University is investigating food source attraction, colony growth and immature development.

What impact do they have? In infested areas, large numbers of ants accumulated in electrical equipment have caused short circuits and equipment failure, sometimes costing several thousand dollars in damages. Wildlife such as nesting songbirds are irritated by the ants. Masses of crazy ants covering the ground and trees likely affect ground and tree-nesting birds and other small animals.

For more information about the biology and identification of the Rasberry Crazy Ant and to watch a few amazing videos visit Texas A&M University's Center for Urban and Structural Entomology page.

Upcoming Events

APHIS PUBLIC MEETING
Topic: Wood Packaging Material Used in Domestic Commerce and Pest Mitigation Relating to Firewood Movement
September 15, 2009, 9am-12pm, Registration: 8am-9am
The Crowne Plaza Houston I–10 West, 14703 Park Row, Houston, TX
For more information contact Mr. Paul Chaloux, (301) 734–0917

If you would like your invasive species events listed in the next iWire, please send the event details to Travis Gallo at tgallo@wildflower.org. If events are well into the future we will publish them each month leading up to the event, so please send any event you would like posted.

High School Teachers Join the Program
Teachers from Moody high school, in Corpus Christi, are planning on spreading the word about invasives to their students this school year. On August 13th, Mike Murphrey, with the Texas Forest Service held a workshop for a group of Moody high school teachers and a few education professors from Texas A&M University Corpus Christi. The teachers and professors plan on using the program in their classrooms, teaching their students about the issues we face with invasive species. Their efforts will go a long way towards outreach and education about these pesky species.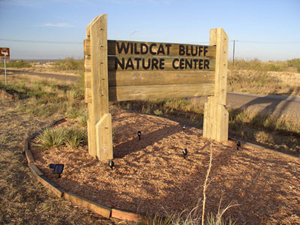 Welcome High Plains Voyagers
On August 22nd, we had the privilege of visiting the High Plains for an Invaders of Texas workshop. The Wildcat Bluff Nature Center, in Amarillo, was a great host and a beautiful facility. A great group of people attended the workshop, and they seemed eager to start recording the plethora of Siberian elms and Russian thistles that are plaguing the High Plains. Welcome High Plains Invaders!
End of Summer Competition!
We have 10 unique mouse pads featuring a picture of a Southern leopard frog (Rana sphenocephala) shot by Bruce Leander. We will be sending them to the first 10 people that record 10 different species in the database. It is getting late in summer, and plants will be losing their leaves soon, so get out there and get dirty before winter is upon us. Remember it is 10 different species, not just 10 observations. Good Luck!
Upcoming Citizen Science Workshops
There is currently two workshops scheduled for any new citizen scientist needing training, or any veteran Invaders that could just use a refreshers course. If you are interested in attending one of the following workshops, please visit our Workshops page to contact the workshop host and find more information.
Saturday September 19, 2009
9:00am-4:00pm
Witchita Falls, TX, River Bend Nature Center
Saturday October 17, 2009
9:00am-4:00pm
New Braunfels, TX, Comal County Extension Office
A million thanks to everyone that has been hard at work reporting in their area. With your continued hard work and support we can all help "Stop the Spread".