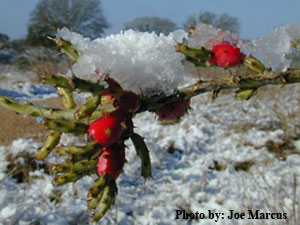 We are entering the Holiday Season and a lot of new things have been happening with the Invaders of Texas program. The biggest thing is our new website! Keep reading to learn about the new website features and other news :
The Website is Back, and Better Than Ever!
The new and improved texasinvasives.org has officially gone live as of today, Monday December 15th. Go visit the website and see some of the new features such as your own personal profile page. You can also keep track of others in your satellite by visiting your satellite's profile page. Then keep track of other satellites by visiting the satellites page. Simply log in at the top right of any page and start navigating through your personal pages.
There are 4 very important things that you as an individual need to know about the new data entry:
1. We are now only requiring a "close-up" picture to be uploaded. Do not worry, all of your "far view" pictures have been saved and are available to anyone that wants to use them as data. We feel that from this day forward it will only be necessary to take a "close up" shot for species identification.
2. Your observations will not appear on the public list or maps until they have been validated. You will be able to see your "unprocessed" observations on your personal profile page. Once they are validated, they will disappear from your profile page and will appear on the public list and maps.
3. You can now edit your "unprocessed" observations until they are validated. Once your observations are validated they will no longer be accessible to be updated or edited.
4. Lastly, all the notebook chapters on the toolkit page have been updated to match all the changes to the website. If you are having trouble uploading your data you might want to print and read the Chapter 8 Data Entry Tutorial.
We believe you will truly enjoy the new website. Please visit texasinvasives.org and browse around to see all the new features. It may look the same, but I promise there are a lot more changes then I have mentioned above.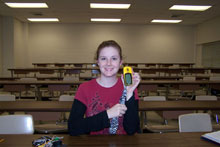 Cross Timbers Invader wins a GPS
The Cross Timbers Invaders just wrapped up a friendly competition to see who could be the first to enter 50 validated observations. The winner was Tonya McDaniels, and she won a new Garmin eTrex H GPS unit. A friendly competition within satellites can really encourage people to get out and collect data. This may be something to think about when making your Invaders of Texas New Year's resolutions.
Preparing for the Emerald Ash Borer
Although not a plant, the Emerald Ash Borer (Agrilus planipennes) is a dangerous forest pest that is causing havoc on Ash trees in the Lake States and Canada. The Emerald Ash Borer (EAB) has not yet reached Texas, but was recently found as close as Missouri. Emerald Ash Borer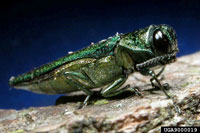 was introduced in solid lumber packing materials brought over from Asia, and is introduced into other areas of the U.S. by human activity, such as moving fire wood across state lines. Recently the Texas Forest Service, USDA, and several other agencies and organizations began working on a Emerald Ash Borer preparedness plan for the state of Texas. Expect to see more information about invasive pests added to the texasinvasives.org website in the near future. For information, now, about the Emerald Ash Borer and other invasive pest visit our Publications page. (Photo by: David Cappaert)
Leader of the Cross Timbers Invaders Steps Down
Marilyn Sallee, leader of the Cross Timbers Invaders, has announced her decision to step down as the satellite leader of the Cross Timbers Invaders.
For the past 3 years, the Cross Timbers Invaders have recorded more observations than any other satellite. All the training classes she recruited, organized and hosted, the group activities led, the Cross Timbers website she conceived of and built, the training materials she created, the countless groups she traveled and presented information on our program to, the articles she wrote and interviewed for, and the 600+ species observations she created in the database, are a testament of her character and work ethic. Marilyn has done a great job establishing positive working relationships with people and local communities. Her leadership and tireless energy will be missed.
A search is under way to find a new Cross Timbers Invaders leader. We would like to thank Marilyn for years of outstanding service to the Invaders of Texas Program and wish her well.
Upcoming Training Workshops
There are several more workshops scheduled for any new citizen scientist needing training, or any veteran Invaders that could just use a refreshers course. If you are interested in attending one of the following workshops, please visit our Workshops page to contact the workshop host and find more information.
Saturday January 24, 2009
9:00 am - 4:00 pm
Angleton, Texas, Brazoria County AgriLife Office, 21017 County Road 171
Saturday February 21, 2009
9:00 am - 4:00 pm
Midland, Texas, Sibley Nature Center
Saturday February 28, 2009
9:00 am - 4:00 pm
Abilene, Texas, Taylor County Extension Office
Saturday March 28, 2009
9:00 am - 4:00 pm
Dallas, Texas, Trinity River Audubon Center
Saturday April 18, 2009
9:00 am - 4:00 pm
Weslaco, Texas, Estero Llano Grande State Park
Saturday May 2, 2009
9:00 am - 4:00 pm
Southlake, Texas, Bob Jones Nature Center
A million thanks to everyone that has been hard at work reporting in their area. With your continued hard work and support we can all help "Stop the Spread". Have a safe holiday!
Merry Christmas,
Travis
Invaders of Texas Program Coordinator