iWire December 2009

New Invasive Plants Field Guide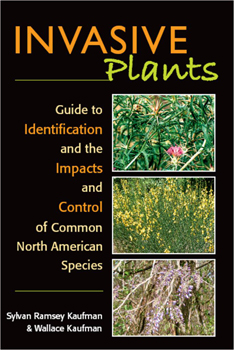 Invasive Plants: A Guide to Identification, Impacts, and Control of Common North American Species is first-ever field guide to invasive plants in North America. Features full-color photos and descriptions of 175 invasive species. Keep this new book in mind when trying to figure out what to buy with all your gift cards.

TDA and Commissioner Staples urge Texans to use local Firewood
Texas is facing a threat from invasive pest that could destroy many of the trees in its forests and urban landscapes. Anyone who wants to use firewood at campgrounds, in parks or in forests, or wants to heat their homes with firewood, should use only local firewood. This is one of the most effective things one can do to keep some of the most destructive pests out of Texas forests and urban areas.

Insect larvae and diseases can not only survive in harvested firewood, but they can also multiply upon introduction and destroy trees and the local environment. The main pests of concern are the emerald ash borer, Asian long-horned beetle and sirex wood wasp.

To hear Commissioner Staples soundbite please visit the Texas Department of Agriculture's Soundbite web page.

Invasive Spotlight: Elephant Ear (Colocasia esculenta)
Elephant Ear was introduced to the United States in 1910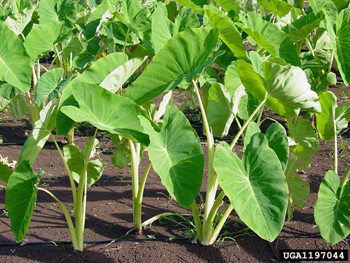 as a substitute crop for potatoes. It was later cultivated as an ornamental, and today numerous varieties continue to be sold. Elephant Ear invades wetland areas and colonizes lake banks, forming dense growth. It out competes native species, thus altering natural habitat and ecosystem processes, reducing biodiversity.

Elephant ear leaves reach 2 - 3 feet in length and are heart or arrowhead-shaped, green to bluish-black between light-colored primary veins, all emerging basally from an underground stem, or corm. Petioles attach to the middle of the underside of leaf and are green to red, often violet, and can reach 4 feet. The corm is a starchy root reaching 6 inches in diameter and weighing up to 6 lbs. Flowers occur at the apex of a fingerlike flower stalk. Seeds are 2 - 5 per berry and are generally rare.

For more information about Elephant ear and other Texas invasive plants, please visit our Invasive Plant Database.
Upcoming Events
If you would like your invasive species event listed in the next iWire, please send an email to Travis Gallo at tgallo@wildflower.org.

Outstanding Citizen Scientist: Susan Haney of the Voyager Satellite
Susan Haney is our Outstanding Citizen Scientist of the month. She is part of the new Voyager group and has been reporting from her area around Coleman, TX. She is one of the first Voyagers to start reporting consistently in her area. Keep it up Susan, you are providing valuable information in an area that we have not yet been.
Upcoming Citizen Science Workshop
There is currently one workshop scheduled for any new citizen scientist needing training, or any veteran Invaders that could use a refresher course. If you are interested in attending the following workshop, please visit our Workshop page to register.
Saturday January 23, 2010
9:00am-4:00pm
Jasper, TX, Jasper VFD Fire Hall
A million thanks to everyone that has been hard at work reporting in their area. With your continued hard work and support we can all help "Stop the Spread".