Spring is coming, can't you feel it? It is about time to dust off your GPS's, print off some datasheets, and get ready for warm days in the field. Although Spring is not quite here, there are still some species that can be easily identified and recorded, such as Melia azerarach (Chinaberry tree). Please read on for this month's news:
Welcome Cradle of Texas Invaders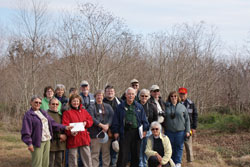 In January we took a trip out to the coast to the beautiful and not-so Ike-stricken town of Angelton. The Cradle of Texas Master Naturalist hosted a very diverse workshop consisting of Master Naturalist, Master Gardeners, Refuge volunteers, and staff from the Gulf Coast Bird Observatory. They were gracious hosts and took us on a nice field trip to the Hudson Woods Unit NWR, to see the infestation of Chinese Tallow and Japanese Honeysuckle. The Cradle of Texas Invaders were very eager to get started, so keep your eye out for recorded Tallows popping up on the map. (Photo by: Travis Gallo)
Start scheduling your Spring field trips
Its time to start planning your group trips for the Spring. Soon, it will be super easy to identify and differentiate the invasives from the natives. We have all slowed down and gone into a mini-hibernation this Winter, but the time of year we all love is coming soon. As you plan your field trips or invasive species related outings, please send an email to tgallo@wildflower.org, so we can post them on the events section of www.texasinvasives.org.
Let us know your experience with these three potential invasives
We have had some request to add certain species of exotic plants to the list of invasives, and we would like to know if you all have had any experiences with one or more of the following species: Loquat (Eriobotrya japonica), Callery pear (Pyrus calleryana), and/or sweet autumn virginsbower (Clematis terniflora). We are concerned about these plants turning up in wild places, so please email Travis Gallo if you have seen these plants escaping into the wild.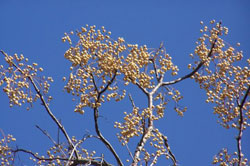 Chinaberry Competition
This time of year, the Chinaberry trees and their white berries are sticking out like sore thumbs all over the state. So, we are going to instigate a small competition among the citizen scientists. The first 5 people to record 10 different Chinaberry trees, in the wild, will receive a 2009 Wildflowers Calendar. It has great photography by Darrel Gulin, and it is a hot item at the Lady Bird Johnson Wildflower store. (Photo by: Karan Rawlins)
Spotlight Invasive Plant: Japanese Climbing Fern
Vanessa Adams, an Invaders of Texas citizen scientist, found and recorded Japanese climbing fern in Marion County. This is the farthest north that this species has been found in Texas, so it has earned the spotlight invasive plant for this month. Japanese climbing fern, Lygodium japonicum, was introduced as an ornamental from Japan in the 1930's. The vines rapidly climb, forming tangled masses that shade out and kill shrubs and trees up to 90 feet tall. This invasive fern can be found along highways, in open forests, and margins of wetlands. It persists and colonizes by rhizomes and spreads rapidly by wind-dispersed spores. In fire season, vines serve as fire ladders to carry ground fires into tree crowns harming the trees, and the burning parts are often kited away to start new fires. To learn more about Japanese climbing fern visit our Plant Detail page.
Upcoming Training Workshops
There are several workshops scheduled for any new citizen scientist needing training, or any veteran Invaders that could just use a refreshers course. If you are interested in attending one of the following workshops, please visit our Workshops page to contact the workshop host and find more information.
Saturday February 21, 2009
9:00 am - 4:00 pm
Midland, Texas, Sibley Nature Center
Saturday February 28, 2009
9:00 am - 4:00 pm
Abilene, Texas, Taylor County Extension Office
Saturday March 28, 2009
9:00 am - 4:00 pm
Dallas, Texas, Trinity River Audubon Center
Saturday April 4, 2009
9:00 am - 4:00 pm
Kellyville, Texas, Kellyville Community Center
Saturday April 18, 2009
9:00 am - 4:00 pm
Weslaco, Texas, Estero Llano Grande State Park
Saturday May 2, 2009
9:00 am - 4:00 pm
Southlake, Texas, Bob Jones Nature Center
A million thanks to everyone that has been hard at work reporting in their area. With your continued hard work and support we can all help "Stop the Spread".
Cheers,
Travis
Invaders of Texas Program Coordinator