iWire February 2010

Texas Parks and Wildlife Department to Create a White List of Aquatic Plants


The Texas Parks and Wildlife Department is compiling a prospective list of exotic aquatic plants that could be allowed for sale in Texas. TPWD already maintains a prohibited list of aquatic plants but the current method requires continued monitoring and revision of the list as new species are introduced. "We believe this approach is the most efficient way to prevent the introduction of invasive exotics into the ecosystem," said Dr. Earl Chilton, TPWD's exotic vegetation program manager. TPWD is looking to get your input during a series of open meetings in March (see schedule). You can also view a draft list of plants under consideration. Please click here to see the entire news release by TPWD.

Major Invasive Species Legislation Approved in Mexico


On February 16th, Mexico's Deputy Chamber passed a major invasive species bill that had been approved by the Senate in 2006. The bill is a major move by our neighbors to combat the invasion of exotic species across borders. The new bill defines an invasive species and:
Prohibits the importation of exotic invasive species or any other wild species that can carry an exotic invasive species
Prohibits the release into the wild of exotic invasive species
Mandates the creation of a list of exotic invasive species that has to be reviewed every 3 years
Mandates the creation of a regulation on prevention of entry of these species, management, control and erradication of those exotic invasives which are already established in Mexico
Gives the Economy Ministry the power to control transit of these species inside Mexico
Invasive Spotlight: Brazilian Peppertree (Schinus terebinthifolius)
The Bra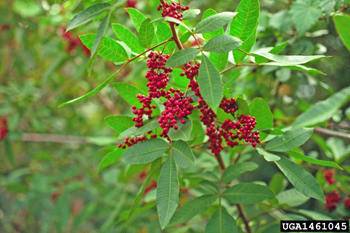 zilian peppertree (Schinus terebinthifolius) can grow to 30 or 40 feet in height with a trunk diameter of 3 feet. It responds to abrupt changes in its environment with heavy growth, acting as an opportunistic pioneer species. This broadleaf evergreen shrub is well-laden with intertwining, drooping branches and foliage. Stems are yellow-green and the leaves are alternate, pinnately compound, and dark green, with 3-13 leaflets, each 1-2 inches long. A turpentine or pepper fragrance is given off upon crushing the leaves. Fruit are small red berries, 1/8 to 1/4 inch in diameter.

Brazilian peppertree has become a more recent plant pest problem in coastal habitats of Texas. It was first found on Galveston Island in 2003. More recently, the plant has been reported by Citizen Scientists from Texas City south to Brownsville. Coastal habitats around Port Aransas and Corpus Christi have become infested and are beginning to cause concern among landowners and city officials. Birds and mammals attracted to the red fruits are primarily responsible for dispersal and rapid spread of this invasive plant. Typically, acids in the animal's digestive tract serve to scarify the seeds, rendering them ready for germination wherever they may fall. Although Brazilian peppertree was once commonly sold as an ornamental in the state, this species is now on Texas Department of Agriculture's noxious plant list. Therefore, the importation, sale, and distribution of Brazilian peppertree are prohibited.

For more information about Brazilian peppertree and other Texas invasive plants you can visit our Invasive Plant Database, and read this excellent fact sheet published by the Texas Forest Service.
News and Events
2010 Weeds Across Borders Conference - Plant Invasions: Policies, Politics, and Practices
June 1-4, 2010 at the National Conservation Training Center Shepherdstown, West Virginia, USA.
An international conference covering the interests of professionals and organizations involved in weed management and regulation. The purpose of the conference is to exchange information on and help promote awareness of the ecological, economic and social impacts of invasive species throughout North America. Learn more.
Thousand Cankers Disease of Black Walnut - A new pest may threaten populations of walnuts from Texas. Learn more.
When Plants Attack! - Check out this great video by the Texas Parks and Wildlife Department addressing the issue of invasive plants.
Please contact us if you would like your event listed in the next iWire.

Outstanding Citizen Scientist: Margie Saulsbury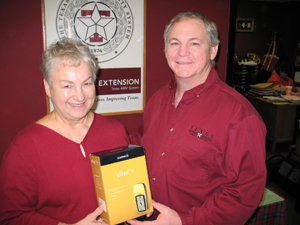 Margie Saulsbury, of the Pineywoods Invaders, was trained at the Lufkin workshop last October. She quickly took her knew knowledge back home with her to Jasper, recording invasives all the way home. She quickly reached the 50 observation mark first in her Invaders class and earned a new GPS. She continues to record observations throughout far East Texas. Expect to see more observations from her now that she has her own GPS unit. Keep up the great work Margie!

Satellite leaders, if you have an outstanding citizen scientist that you want to recognize, please send a story about them to Travis Gallo.
The use of Citizen Scientists is catching on!
The American Chestnut Foundation has taken an unprecedented step toward the restoration of the American chestnut tree by offering a limited number of its most advanced and potentially blight-resistant seeds to both new and existing sponsor members for planting and testing. This is the very first time any of these seeds have been made widely available to members and it comes on the heels of over 26 years of intense evaluation by scientists throughout the natural range of the chestnut. Members can test these seeds for blight-resistance and American growth characteristics. Visit the TACF website to learn more about the program.
Engaging Students through Citizen Science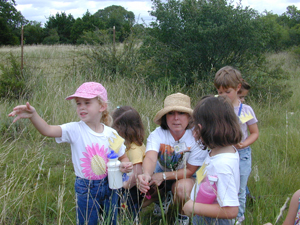 In schoolyards, backyards, and classrooms throughout North America, students of all ages scan the skies for monarchs, monitor milkweed, document hummingbird arrivals, snap ladybug photos, notice nests, interview gardeners, report on bursting buds, and observe the color of firefly flashes. And that's just for starters. In most cases, their next step is to go online and send their observations and measurements to a project web site. There, their data is combined with input from hundreds or thousands of other observers. These young "citizen scientists" serve as an army of eyes and ears, helping professional scientists gather data to answer real-world questions and better understand our environment and how to protect it. They think and act like scientists as they make careful observations, ask questions, look for patterns, try to make sense of data, and link their local observations to larger global issues. They also learn about being collaborators, environmental stewards, and engaged local, national, and global citizens. Oh, and they have fun, too! To read the whole article please click here.
2010 Invaders of Texas Citizen Science Workshops
We already have five workshops scheduled in 2010. The first one is hosted by the San Antonio Invaders and will be in Helotes, TX, just outside of San Antonio. This workshop can only accommodate 20 people so sign up fast. We also have workshops scheduled in Kerrville, Cameron, Austin and Houston. To sign up or request a new workshop, please visit our Workshop Page.
Saturday February 27, 2010
9:00am-4:00pm
Helotes, TX, Helotes Creek Nature Center
Saturday March 27, 2010
9:00am-4:00pm
Cameron, TX, Cameron Chamber of Commerce Meeting Room
Saturday May 1, 2010
9:00am-4:00pm
Austin, TX, Austin Nature Center
Saturday May 15, 2010
9:00am-4:00pm
Houston, TX, Harris County AgriLife Extension Office
Saturday May 22, 2010
9:00am-4:00pm
Kerville, TX, Location TBD
If you are a current citizen scientist, tell your fellow outdoor enthusiasts about our online training program.