It's official, 2009 is fully upon us, and with it comes a new year to fight invasives on all fronts. You all have been doing a great job with the Invaders of Texas program, and the new year is a great opportunity to expand your knowledge about invasive species. Please read below for this month's Invader news:
New Year, New Website, New Things to Come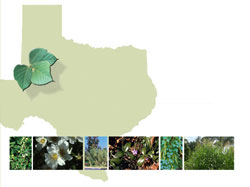 As you all remember, we launched the new www.texasinvasives.org site right before the holiday season. The new site offers more user friendly searching functions, new updated resources on the publication and resources pages, invasive species news on the home page, and an easier data entry form. The new site also has become more personalized, offering you your own profile page where you can keep track of your observations and others in your satellite. Also, this newsletter is now available to anyone. Tell your friends to sign up if they are interested in the Invaders of Texas program. Please visit the website and click around. You will like what you see.
Pictures needed for Invaders of Texas kiosk
The Lady Bird Johnson Wildflower Center is revamping their visitors gallery, and they are creating an information kiosk about the Invaders of Texas program. They have requested pictures of citizen scientist in the field collecting data. If you have any pictures please send them to tgallo@wildflower.org, along with contact information for each person in the picture.
Event Calendar Coming Soon
In the near future, we are going to add a public events calendar to texasinvasives.org to create more communication among citizen scientists and event organizers. Invasive species related events will be added to the calendar , and it will be made public so that everyone can post their events, as long as they are related to invasive species. The calendar will create more opportunities for our citizen scientist to participate in a variety of activities in their areas, such as invasives removal events, presentations, workshops, or field trips.
Chinese Tallow, Ligustrum sps., and Tree-of-Heaven make top 5 list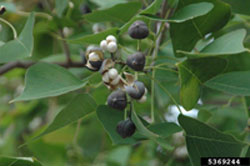 Dr. Jim Miller of the U.S. Forest Service has recently announced what he thinks are the top 5 invasive plants of Southern forests. "Cogongrass, tallowtree (pictured to the right), and Japanese climbing fern are among the fastest moving and most destructive nonnative plant species facing many southern landowners this year," said Dr. Miller. "Rounding out the top five invasive species that I'm very concerned about would be tree-of-heaven and nonnative privets." These species are already some of our most reported species, so keep an eye out for them in your area, and be sure to record your observations.
Upcoming Training Workshops
There are several more workshops scheduled for any new citizen scientist needing training, or any veteran Invaders that could just use a refreshers course. If you are interested in attending one of the following workshops, please visit our Workshops page to contact the workshop host and find more information.
Saturday January 24, 2009
9:00 am - 4:00 pm
Angleton, Texas, Brazoria County AgriLife Office, 21017 County Road 171
Saturday February 21, 2009
9:00 am - 4:00 pm
Midland, Texas, Sibley Nature Center
Saturday February 28, 2009
9:00 am - 4:00 pm
Abilene, Texas, Taylor County Extension Office
Saturday March 28, 2009
9:00 am - 4:00 pm
Dallas, Texas, Trinity River Audubon Center
Saturday April 18, 2009
9:00 am - 4:00 pm
Weslaco, Texas, Estero Llano Grande State Park
Saturday May 2, 2009
9:00 am - 4:00 pm
Southlake, Texas, Bob Jones Nature Center
A million thanks to everyone that has been hard at work reporting in their area. With your continued hard work and support we can all help "Stop the Spread".
Cheers,
Travis
Invaders of Texas Program Coordinator