iWire January 2010

TIPPC News


The Texas Invasive Plant and Pest Council (TIPPC) met on January 11th for their first Board of Directors meeting of 2010. New officers include Scott Walker (President), James Houser (Secretary), Alexander Mathes (Treasurer), Damon Waitt (Past President), Michael Merchant and Michael Arnold (Directors at Large). During the meeting the board amended the bylaws to create a Technical Advisory Panel to allow for the continued support from federal agencies. Other topics discussed included: developing a statewide invasive species assessment protocol, developing long-term goals and a strategic plan for the TIPPC, and planning the 2011 Texas Invasive Plant and Pest Conference. For more information about TIPPC and the state conference on invasives, please visit www.texasinvasives.org.

Microbial Control of Giant Salvinia?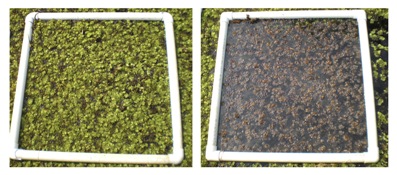 A team of researchers at Louisiana Tech University have found that a naturally occurring microorganism acts as a natural herbicide against giant salvinia (Salvinia molesta).
Giant salvinia is an invasive aquatic weed that has been featured in past issues of the iWire. Under the right conditions, giant salvinia can double in size every seven days. Dr. H. Lynn Walker, of Louisiana Tech, says "Research results indicate that the microbe can be grown under laboratory conditions and then sprayed onto the foliage of giant salvinia, and even one application can drastically reduce the scourge in as few as ten days." Studies are underway to evaluate the potential for using the microbe as a bioherbicide. While the initial results of the research are encouraging, project leaders say the study is still in its early stages. Learn more.
Emerald Ash Borer (EAB) University

The US Forest Service, Purdue University, Michigan State and Ohio State have been offering free Webinars that let you learn about EAB from the convenience of your own home and computer. Upcoming webinars include: Utilization of Ash in the Wake of EAB (Feb. 4), Management of Woodlots to prepare for EAB (Feb. 11), Regulatory Issues about EAB (March 4), Helping Communities Prepare for and Live with EAB (March 18), What Happens After Ash Is Gone? Planning Diversity (April 1) and 2010 EAB Awareness Week : Ways to Get The Word Out (April 8). For more information and to register, please visit www.emeraldashborer.info.
Invasive Spotlight: Heavenly Bamboo (Nandina domestica)
Heavenly Bamboo or Nandina invades forested areas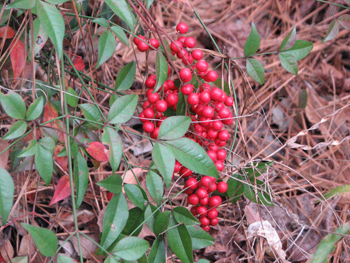 throughout the state. It is a small evergreen erect shrub that grows to a height of 6-10 feet and a width of 3 to 5 feet. Flowering occurs in the spring, when small, white flowers develop in large panicles at the ends of the stems. Flowers have 3-6 reflexed petals. Fruits are green berries that mature to a bright red. The older stems have bark with long, linear furrows. The overlapping leaf sheaths give the main stem the appearance of bamboo, hence the name. It spreads both vegetatively through underground sprouts from roots and by seeds. The seeds are commonly consumed by birds and can be dispersed long distances. Nandina is shade tolerant, which allows it to invade forest edges and interiors. It is native to eastern Asia and India and was first introduced to North America in the early 1800's. It has been planted widely as an ornamental and often escapes from old plantings.

For more information about Nandina and other Texas invasive plants, please visit our Invasive Plant Database.
Upcoming Events
Invasive Pests Workshop
When: October 11-14, 2010
Where: Mayfair Motel, Miami (Coconut Grove), Florida
Topics: Many arthropods invade continental USA and the Caribbean Region each year, causing significant damage to agriculture and natural environments. This workshop will provide information on some of the most recent invasive pests and on potential invaders in order to provide researchers, regulatory personnel and growers with the necessary tools to address these potential threats. Learn more.

Outstanding Citizen Scientist: Christopher Fritel

Chris Fritel is using the Invaders of Texas program to survey properties belonging to the City of Austin and the Balcones Canyonlands Preserve and Mayfield Nature Preserve. Chris' efforts are part of an overall plan to restore this Mayfield and the data from Chris' project will help guide eradication efforts. Keep up the great work, Chris!

Satellite leaders, if you have an outstanding citizen scientist that you want to recognize, please send a story about them to Travis Gallo.
2010 Citizen Science Workshops
We already have four workshops scheduled in 2010. The first one is hosted by the San Antonio Invaders and will be in Helotes, TX, just outside of San Antonio. This workshop can only accommodate 20 people so sign up fast. We also have workshops scheduled in Kerrville, Cameron, and Houston. To sign up or request a new workshop, please visit our Workshop Page.
Saturday February 27, 2010
9:00am-4:00pm
Helotes, TX, Helotes Creek Nature Center
Saturday March 27, 2010
9:00am-4:00pm
Cameron, TX, Cameron Chamber of Commerce Meeting Room
Saturday May 15, 2010
9:00am-4:00pm
Houston, TX, Harris County AgriLife Extension Office
Saturday May 22, 2010
9:00am-4:00pm
Kerville, TX, Location TBD
If you are a current citizen scientist, tell your fellow outdoor enthusiasts about our online training program.