iWire July 2009

TIPPC News
The third statewide Invasive Plant and Pest Conference will be held in San Antonio, Texas at Trinity University November 13-15, 2009. This notice serves as a call for abstracts and all stakeholders are invited and encouraged to present some aspect of their work in a contributed presentation or poster. Abstract submissions will be carried out online at http://www.texasinvasives.org/conference/conference09.php. The deadline for receiving abstracts is October 2, 2009. Each contributed presentation or poster requires an abstract.

High School Students take on invasive species!
It's not every day a group of high school students become passionate about invasive species issues and decides to start their own non-profit, well these kids did. EcoTexas was founded in 2007, by Jordan Sessler, when he became aware of the threat posed to Texas by invasive plant species after taking an environmental science class at the Liberal Arts and Science Academy in Austin. Today, EcoTexas continues to be driven by the efforts of several dozen teenage volunteers in Central Texas. They are not only working to raise awareness about the issues, but also to actively prevent the spread of invasives into parks and preserves by hosting eradication workdays. Some of their new ventures include an extensive restoration project at Austin's Zilker Nature Preserve and working with nurseries to raise awareness about the negative aspects of invasive plants.

Our neighbors to the north get an Invasive Plant Council
Oklahoma now joins Texas and 34 other states as a member of the National Association of Exotic Pest Plant Councils. The Oklahoma Invasive Plant Council (OkIPC) had their 1st annual meeting at Oklahoma State University on July 8th, where Texas Invasive Plant and Pest Council (TIPPC) president Dr. Damon Waitt gave a presentation about TIPPC and the Invaders of Texas Program. The newly established OkIPC has many goals, such as advocating for regulations and laws to control invasive plant introductions and establishing early detection and rapid response mechanisms. The president-elect for OkIPC is Karan Hickman.

Spotlight on an Invasive: Macfadyena unguis-cati (Catclawvine)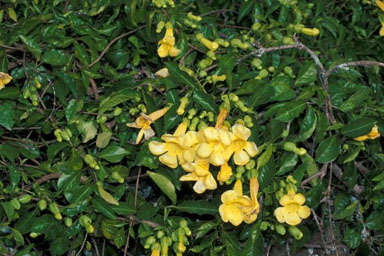 Macfadyena unguis-cati (Catclawvine) is a high-climbing woody vine, with stems to 2 in. in diameter and roots becoming elongated tubers with age. Leaves are opposite, compound, with 2 leaflets and a terminal 3- forked tendril; the tips of tendril forks are stiffly hooked and claw-like. Flowers are showy and trumpet shaped; petals joined into yellow floral tube with orange lines in the throat. The fruit is a linear, flat capsule, to 20 in long, with oblong, winged seeds.

Catclawvine was first introduced as an ornamental sometime before 1947. This plant is persistent around former habitations and older neighborhoods in urban areas. It can thrive in full sun or partial shade and in a wide variety of soils. Stays at seedling stage for some time, while enlarging roots into tuber-like storage organs; then rapidly elongates stems, forming long runners when no erect substrate is within reach. Clings tenaciously to any substrate with adventitious roots and clawed tendrils. Flowers in spring, with high seed production, but may not begin flowering until vine is well established. Seeds are dispersed by wind. Areas that are susceptible to invasion include river or stream banks, near human habitations, and undisturbed hammocks.

Upcoming Events

GIANT SALVINIA CLEAN UP
Saturday July 18, 2009
Lake Sam Rayburn at Jackson Hill Marina, Broaddus, Texas
Please pre-register with Leslie McGaha, 832-266-6242

MUELLER PRAIRIE ERADICATORS EVENT
Saturday July 18, 2009, 8am-12pm
Southwest Greenway park, Mueller Airport Redevelopment, 1908 Emma Long St, Austin, Texas
Please RSVP with Carrie McDonald

If you would like your invasive species events listed in the next iWire, please send the event details to Travis Gallo at tgallo@wildflower.org. If events are well into the future we will publish them each month leading up to the event, so please send any event you would like posted.

Outstanding Citizen Scientist: Karan Rawlins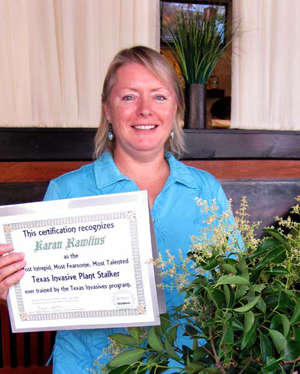 One of our very best Invaders, with over 3,000 site reports, has decided to move on to bigger and better things. Karan Rawlins of the Cross Timbers Invaders is taking the position as the Invasive Plants Coordinator for the Center for Invasive Species and Ecosystem Health (www.invasive.org) at the University of Georgia. She is moving back to her home state of Georgia to continue her mission to search out and destroy invasive plants.

Karan will be very much missed. Before she left, she was awarded a bouquet of Ligustrum japonica flowers, and a recognition certificate, from the former Cross Timbers satellite leader and good friend, Marilyn Sallee.

According to Sallee, "She has challenged every Invader in the State to match and exceed her record in the continuing effort to reclaim our lands for the native plants. Karan holds the record for the most site reports, and actively rips out invasives, especially privets, wherever it is allowed. We all have a long way to go to measure up to Karan, but we can try."
Welcome To All the New Voyagers
As you know we recently launched the on-line version of our training and started a new satellite group called the Voyagers. The Voyagers are citizen scientist, working alone, searching for and recording invasive plants in areas where an official satellite has not been established. So far there are 54 citizen scientist in the Voyager satellite. Their efforts will significantly help with our mission to detect the arrival and dispersal of invasive species throughout this great state. Welcome Voyagers, please keep spreading the word.
Help color in Texas, be the first to fill in a county
How do USDA Plants county maps stack up against the Invaders of Texas program? The maps below show an example for giant cane (Arundo donax). In the "USDA/Invaders Combined" map, counties colored orange represent areas where Invaders of Texas early detection data has contributed to a new county record. This shows how the data we collect contributes to our knowledge of the distribution of invasive species. Do I sense a friendly competition between or within satellites to start filling in new counties? Check out examples of more species here.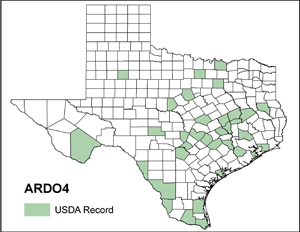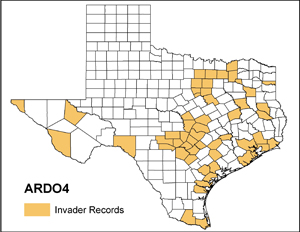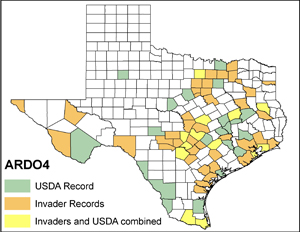 New Resources in Toolkit
If you have not visited the Invaders Toolkit lately, you are missing out on some valuable new additions. We have added several identification cards for particular species and a few keys to help decipher between thistles, privets, and other look-a-likes. You will also find a new datasheet for the advanced citizen scientist. The new datasheet allows you to record multiple observations on one sheet instead of carrying around multiple datasheets. We are continuously adding new resources to the Toolkit page, so check in periodically to see what's new.
Upcoming Citizen Science Workshops
There are currently three workshops scheduled for any new citizen scientist needing training, or any veteran Invaders that could just use a refreshers course. If you are interested in attending one of the following workshops, please visit our Workshops page to contact the workshop host and find more information.
August 13-14, 2009
Friday 1-4pm and Saturday 9am-4pm
Corpus Christi, TX, Moody high school engineering lab
*NOTE: This workshop will only be open to teachers from Moody High School
Saturday August 22, 2009
9:00am-4:00pm
Amarillo, TX, Wildcat Bluff Nature Center

Saturday September 19, 2009
9:00am-4:00pm
Witchita Falls, TX, River Bend Nature Center
A million thanks to everyone that has been hard at work reporting in their area. With your continued hard work and support we can all help "Stop the Spread".