iWire June 2009

TIPPC News
The board of the Texas Invasive Plant and Pest Council (TIPPC) met May 29 to tour the site of the 2009 invasive species conference at Trinity University in San Antonio. The conference will be held November 13 and 14, 2009 and will be a professional level meeting including keynotes, concurrent sessions, posters and workshops. This conference is designed to serve scientists, land managers, state and federal agencies, local governments, the green industry and other professionals interested in invasive species issues in the state of Texas. The call for abstracts will go out in August and all stakeholders are invited and encouraged to present some aspect of their work in a contributed presentation or poster. Click here for more information about the 2009 Texas Invasive Plant and Pest Conference.

You can help the Texas Forest Service track down the Soapberry Borer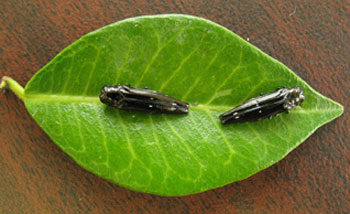 If you remember from last month's iWire, we featured the soapberry borer (Agrilus prionurus) as the invasive species of the month. Well, now you can help the Texas Forest Service (TFS) track down this dangerous pest. TFS is attempting to determine the current distribution of the soapberry borer in Texas, and you can help by filling out this questionnaire if you spot a dead or dying western soapberry tree. If you are uncertain how to identify western soapberry trees or the damage this invasive pest causes take a look at this identification pamphlet put out by TFS.
Do You Know About These Great Invasive Species Publications?
In this month's iWire we wanted to spotlight three very important publications that can help with the identification of some common invasive species. Non-native Invasive Plants of Southern Forest, written by James H. Miller, has great pictures of each plant in different seasons, along with photos of the leaves and bark. This book also offers information about how to control each species listed. Also, Mistaken Identity?: Invasive plants and their native look-alikes, published by the Delaware Department of Agriculture is a great resource for comparing invasive plants with common natives that look similar. There is also information about various control methods that can be used on different types of invasive plants. These two publications along with many others can be found on the www.texasinvasives.org publications page. We would also like to spotlight a new book, Weeds of the South edited by Charles T. Bryson and Michael S. DeFelice. This comprehensive guide offers quick help for identifying and managing problem plants and provides essential information on four hundred of the most troublesome weedy and invasive plants found in the southern United States.
Spotlight on an Invasive: Pennisetum ciliare (Buffelgrass)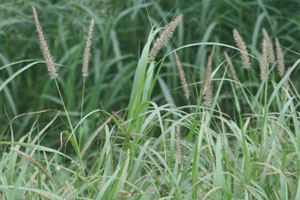 Buffelgrass (Pennisetum ciliare) is a perennial bunchgrass that grows in hot arid climates. It can form thick mats with dense root systems. The leaf blades are bluish-green in color, 3-30cm long, with soft hairs on the upper surface. The inflorescence is generally cylindrical in outline, 2-14cm long, and can be purple, gray or yellowish. The spikelets are solitary or clustered, and are surrounded by numerous bristles

Buffelgrass was introduced to the United States in the 1930's as livestock forage. It has become a top threat to the Chihuahuan and Sonoran deserts by making the desert more fire prone, and by crowding out native species. The dense roots and ground shading by the grass will prevent germination of native seeds, and competition for water can weaken and kill larger desert plants.

Efforts to control the invasive species buffelgrass are expanding across west Texas and throughout the southwest U.S.. Watch this video to learn more about the problems associated with buffelgrass and the efforts in place to control this invasive species.

Upcoming Events

If you would like your invasive species events listed in the next iWire, please send the event details to Travis Gallo at tgallo@wildflower.org. If events are well into the future we will publish them each month leading up to the event, so please send any event you would like posted.

Welcome New City of Austin and San Antonio Invaders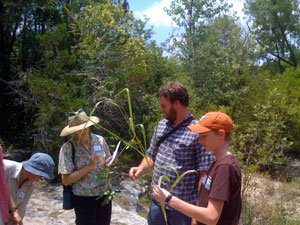 On May 30th, we conducted a workshop for City of Austin Parks and Recreation Department and Wildland Conservation Division's volunteers (pictured). The City of Austin is planning on using these volunteers to survey and monitor public lands for invasive species. They will then use the data from the citizen scientist to create priority lists for managing the properties. This is a great step in the right direction for the City of Austin. We also revisited San Antonio, on June 6th, and trained a new group of citizen scientist to join the San Antonio Invaders. We were privileged to have the workshop at the beautiful Mission San Jose National Park. Start watching out for dots appearing all along the San Antonio river and in the San Antonio Missions National Park.
Invaders Data Used in Scientific Publication
Guy Nesom's article, Photinia serratifolia (Rosaceae) naturalized in Texas, was published in Phytologia December, 2008. The article is a prime example of Invaders of Texas data being used in scientific literature. Everyone that has reported on P. serratifolia should be proud of themselves for contributing information to the scientific community.
Outstanding Citizen Scientist
This month's outstanding citizen scientist recognition goes to all the students in Austin high school's AP Environmental Science class, better known as the Austin APES. Each student finished out their semester surveying sights around their campus, in Austin, and contributing data to the Invaders of Texas program. Not only were they adding valuable information about invasive plants in their area, but they were helping create a better citizen scientist program that can one day be used in any high school science class. Their participation was much more valuable then they themselves realized. Thank you Austin APES!
Upcoming Citizen Science Workshops
There are currently three workshops scheduled for any new citizen scientist needing training, or any veteran Invaders that could just use a refreshers course. If you are interested in attending one of the following workshops, please visit our Workshops page to contact the workshop host and find more information.
August 13-14, 2009
Friday 1-4pm and Saturday 9am-4pm
Corpus Christi, TX, Moody high school engineering lab
*NOTE: This workshop will only be open to teachers from Moody High School
Saturday August 22, 2009
9:00am-4:00pm
Amarillo, TX, Wildcat Bluff Nature Center

Saturday September 19, 2009
9:00am-4:00pm
Witchita Falls, TX, River Bend Nature Center
A million thanks to everyone that has been hard at work reporting in their area. With your continued hard work and support we can all help "Stop the Spread".