iWire May 2009

2009 Texas Invasive Plant and Pest Conference
Save the Date! The 2009 Texas Invasive Plant and Pest Conference is now set for November 13-15, at Trinity University in San Antonio, Texas. The Texas Invasive Plant Conference is a professional level meeting including keynotes, concurrent sessions, posters, and symposia. The Professional Meeting is designed to serve scientists, land managers, state and federal agencies, local governments, and other professionals interested in invasive species issues in Texas. For more information about the 2009 Conference please visit http://www.texasinvasives.org/conference/conference09.php

Voyager Program Launches
Want to help stop the spread of invasive species? Anyone in Texas can now become an Invaders of Texas Citizen Scientist in our new Voyager Program. The Voyager Program is for those who have been wanting to join the Invaders of Texas Citizen Science program but have not been able to attend a training workshop. The Voyager program consists of 8 online training modules with a quiz at the end of each. Once completed, you will be able to enter data into the Early Detection database. To get started, visit the Become A Citizen Scientist web page.

TNC Invasive Species Listserve
Despite the demise of the Global Invasive Species Team, the Nature Conservancy is still maintaining an invasive species listserve for everyone who is working on invasive species issues. This listserve functions as a news-source for invasive species on a national level. Click here to read past digests, or if you wish to join the listserve please contact Leigh Greenwood.

Spotlight on an Invasive: Agrilus prionurus (Soapberry Borer)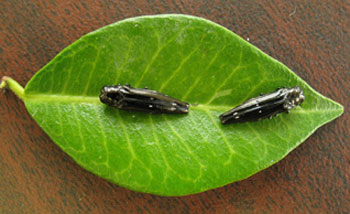 An insect pest of western soapberry (Sapindus saponaria var. drummondii) has recently been detected in Texas. Agrilus prionurus, a native of Mexico, was first reported in Bastrop County in 2003. Since then, it has been detected in several additional areas, including Fort Worth, Dallas, Waco, College Station, Austin, Houston and Corpus Christi. As its populations expand rapidly in Texas, this pest is killing all sizes of soapberry trees. It may eventually threaten western soapberry populations throughout the tree's range, which extends from northern Mexico to Missouri, and west to Arizona.
The adult beetle is about ½ inch-long, shining black and distinctively marked with four small white spots on the wing covers. Larvae are flat-headed wood borers that may attain an inch or more in length as they mature. After feeding beneath the bark, the larvae bore into the wood to complete development and to pupate. The adult leaves a D-shaped exit hole as it emerges.
Western soapberry appears to be this insect's sole host in Texas and the tree exhibits little resistance to this introduced pest. Little else is known about the insect's biology or methods of control. For more information or to report new infestations, contact the authors: Ron Billings or Joe Pase.
Upcoming Events
AQUATIC NON-NATIVE INVASIVE SPECIES WORKSHOP
Wednesday May 13, 2009, 8:30am - 4:30pm
T.J. Taylor Community Center, Karnack, Texas
For more information please contact Vanessa Adams or Irene Hamel
NONNATIVE GRASSES SEMINAR
Thursday May 14, 2009, 10:00am – 12:00pm
360 Access of the Barton Creek Greenbelt, Austin, Texas
Activities: Help pull out non-native trees and restore bio-diversity along the trail
Click here for more information
NATIONAL TRAILS DAY SERVICE PROJECT
Saturday June 6, 2009, 7:30am – 11:30pm
Caesar Kleberg Wildlife Center, Kingsville, Texas
Speakers: Karen R. Hickman, Ph. D. & Thomas G. Barnes, Ph.D.
Click here for more information

Eradicating Catclaw vine on the Texas Coast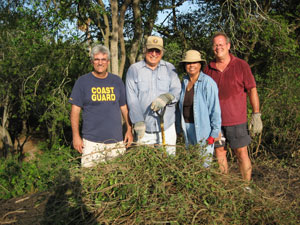 On May 11, 2009 members of the Mid-Coast Invaders and the South Texas Chapter Master Naturalists tackled the spread of Catclaw vine (Macfadyena unguis-cati) at Blucher Park, a renown birding site in Corpus Christi. Macfadyena unguis-cati is a high-climbing woody vine with 2 leaflets and a terminal 3- forked tendril that is stiffly hooked resembling a cat's claw. Pursuant to its rooting abilities, a dense mat will cover the forest floor and smother native vegetation. Areas that are susceptible to invasion to cats claw include river or stream banks, near human habitations, and undisturbed hammocks. The Mid-coast Invaders and South Texas Master Naturalist plan on continuing their eradication efforts in Blucher Park throughout the year. Pictured here from left is Karl Dirksmeyer, John McElroy, Olga Beaber, Cliff Beaber. (photo by: Mary Grace Lopez)
Invaders of Texas program being used in Austin High School
The AP Environmental Science class at Stephen F. Austin High School, in Austin, TX is piloting the High School Invaders program as their end of the year project. The students have completed the Invaders online training and are now documenting invasive species around their campus and the adjacent Lady Bird Lake. The information gained from their participation will help create an Invaders of Texas high school curriculum allowing other high schools across the state to participate.
Outstanding Citizen Scientist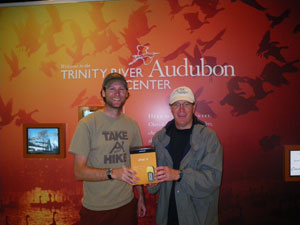 Matt Mortimer of the Blackland Prairies Invaders has earned a Garmin e-Trex GPS unit for being the first person in the Blackland Prairies satellite to enter 50 validated observations. With his new GPS, Matt plans on searching for invasives deeper in the woods of North Central Texas. Keep up the great work, Matt.
Upcoming Citizen Science Workshops
There are currently two workshops scheduled for any new citizen scientist needing training, or any veteran Invaders that could just use a refreshers course. If you are interested in attending one of the following workshops, please visit our Workshops page to contact the workshop host and find more information.
Saturday May, 30, 2009
9:00am-4:00pm
Austin, TX, Austin Nature and Science Center
NOTE: Currently this workshop is only open to City of Austin Volunteers
Saturday June 6, 2009
9:00am-4:00pm
San Antonio, TX, Mission San Jose conference center
A million thanks to everyone that has been hard at work reporting in their area. With your continued hard work and support we can all help "Stop the Spread".

We welcome your suggestions and additions for improving this electronic newsletter. If you would like to post a news item to iWire, please email Travis Gallo, Invaders program coordinator at tgallo@wildflower.org.