iWire November 2009

2009 Texas Invasive Plant & Pest Conference Recap
On November 13 and 14, 2009, the Texas Invasive Plant & Pest Council hosted the third statewide conference on invasive species. Professional presentations, over 120 participants and strong support from planners, sponsors and stakeholders all contributed to the success of the 2009 conference. Download the Executive Summary or Conference Program to learn more.

Biofuels: Cultivating Energy, not Invasive Species
A recent white paper approves by the Invasive Species Advisory Committee for the National Invasive Species Council states "The socio-economic and ecological costs of certain biofuel crops could greatly exceed their benefits. Thus, the Federal government needs to take strategic action to avoid inadvertently facilitating the introduction and spread of invasive species through its development, encouragement, funding, or other support of biofuels programs." The paper provides background information on the potential linkages between biofuels and invasive species, and recommendations to reduce the risk of invasive species introduction and spread through its biofuels programs. You can find this paper and learn more about invasive species being used as biofuel on the National Invasive Species Council website.
Using herbicides to kill invasive plants
The Texas AgriLife Extension office has developed a herbicide mixing guide for those who may need to use herbicide for control and eradication of invasive species. It is an important guide to insure the proper amount of herbicide is used to protect our wildlands. These guides can be found on our website or can be purchased in laminated form from the AgriLife bookstore.

Invasive Spotlight: Water Spinach (Ipomoea aquatica)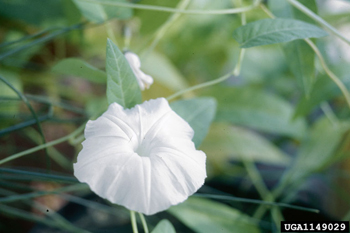 This month's Invasive Spotlight will be a bit different than previous months. We actually have some good news to report about Ipomoea aquatica. Water spinach has been cultivated in Texas for at least twenty years, with some people claiming cultivation began in the mid-1970s. When Texas Parks and Wildlife listed the species as a prohibited aquatic species, in 1989, they did not realize the extent of cultivation, and the growers were not aware of the regulations. Since 2003, TPWD has been conducting a risk assessment of Ipomoea aquatica. After several years of research, TPWD concluded Ipomoea aquatica was not as bad as once thought, and decided to issue permits to farmers. According to Earl Chilton, of the Texas Parks and Wildlife Department, "As a result of there being no evidence of establishment after approximately 30 years of commercial cultivation, TPWD modified regulations regarding water spinach in 2005 making production legal with an exotic species permit, and possession for personal consumption legal.

Earl Chilton had this to conclude about water spinach, "Today the cultivation of water spinach in Texas, primarily for the Asian food market, has grown to an industry worth over $1,000,000 and including over 80 growers. Despite production estimated at over 50,000 lbs per day in some cases, there is no evidence of establishment outside production facilities. This is consistent with the fact that although water spinach has spread throughout many tropical areas of the world, there is little evidence of it becoming established outside of tropical regions. As a result of the requirement for tropical conditions California and Washington as well as Oregon consider it at low risk of becoming a nuisance plant species. Even in Florida with its more tropical climate water spinach has established relatively minor populations in only two counties."

For now, Ipomoea aquatica will stay in the Invasive Plant Database and information from the TPWD risk assessment has been added to the Ipomoea aquatica page.
Upcoming Events
International Symposium on Genetic Biocontrol of Invasive Fish
When: June 21-24, 2010
Where: Doubletree Hotel, Minneapolis, Minnesota, USA
For more info: Minnesota Sea Grant
If you would like your invasive species event listed in the next iWire, please send an email to Travis Gallo at tgallo@wildflower.org.

Outstanding Citizen Scientist: Penny Miller
Penny Miller of the newly formed Rolling Plains Invaders is our outstanding citizen scientist this month. She quickly reached her 50 validated observations to win a GPS, and has continued to report observations in and around Wichita Falls. The Rolling Plains satellite fills an important gap in our distribution of citizen scientists in Texas. All reports from Penny and the Rolling Plains Invaders are extremely valuable and help us better understand the distribution of invasive plants in Texas. Keep it up Penny!

San Antonio Invaders presents poster at the 2009 Invasive Species Conference
Cheryl Hamilton gave a poster presentation at the 2009 Texas Invasive Plant & Pest Conference describing the work their satellite has done in the San Antonio area. Once a week the group meets at Rancho Diana, a property owned by the city of San Antonio. To date, they have identified and recorded 9 different invasive species and have eradicated over 4,000 invasive plants. In addition, they have recruited 28 volunteers and have contributed over 240 volunteer hours. They hope their work will result in the restoration of sensitive biological communities and benefit native flora and fauna in the natural area. You can view the poster under our Publication page.

High School Students in Addison Join the Invaders of Texas Program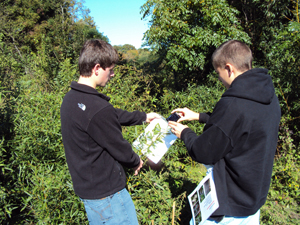 Recently, Bob Adams and his field biology class at Trinity Christian Academy, have joined the Invaders of Texas program to survey and map invasives around their campus and in public parks throughout North Dallas. So far they have recorded 312 observations, and have had two eradication workdays to remove Chinese privet from a public park near their school. It is great to see these students getting a first hand look at the impact of invasive species on our native ecosystems.
Upcoming Citizen Science Workshop
There is currently one workshop scheduled for any new citizen scientist needing training, or any veteran Invaders that could use a refresher course. If you are interested in attending the following workshop, please visit our Workshop page to register.
Saturday January 23, 2010
9:00am-4:00pm
Jasper, TX, Jasper VFD Fire Hall
A million thanks to everyone that has been hard at work reporting in their area. With your continued hard work and support we can all help "Stop the Spread".