iWire October 2009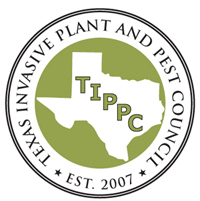 2009 Texas Invasive Plant & Pest Conference
Don't miss out on CEU's and early registration!
Early registration for the 2009 conference ends November 2nd. Click Here to Register.
CEU's for Certified Pesticide Applicators (Texas Department of Agriculture), Certified Foresters (Society of American Foresters), Certified Arborists (International Society of Arboriculture), and Certified Landscape Professionals (Texas Nursery and Landscape Association) will be available at the conference. The 2009 Texas Invasive Plant and Pest Conference will be held November 13-14th at Trinity University in San Antonio, TX.
Overview of Texas non-native plants
A comprehensive account of the non-native plants of Texas has been developed and posted on Guy Nesom's website. This information could be useful to groups working to hold the effects of invasive species to a minimum. More than 820 non-native species are now known to occur outside of cultivation in the state.
Spotlight on an Invasive: Cogongrass (Imperata cylindrica)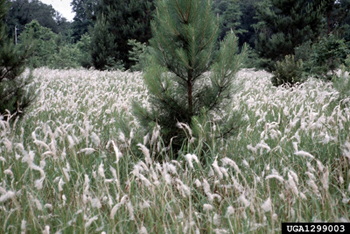 It grows on every continent except Antarctica and is considered one of the worst weeds on earth. Now, according to Jim Miller, cogongrass (Imperata cylindrica) is one of the most threatening invasive species in the South.

Cogongrass is a perennial, rhizomatous grass that grows from 2 to over 4 feet in height. The leaves are about an inch wide, have a prominent white midrib, and end in a sharp point. Leaf margins are finely toothed. The upper surface of the leaf blade is hairy near the base; the undersurface is usually hairless. The flowers are arranged in a silvery, cylindrical, branching structure, or panicle, about 3-11 inches long and 1 1/2 inches wide.

Cogongrass reproduces both vegetatively and from seed. A single plant can produce several thousand very small seeds that may be carried great distances by the wind. Vegetative spread of cogongrass is aided by its tough and massive rhizomes that may remain dormant for extended periods of time before sprouting. Rhizomes of cogongrass may be transported to new sites in contaminated fill dirt or by equipment used in infested areas.

Cogongrass can invade and overtake disturbed ecosystems, forming a dense mat of thatch and leaves that makes it nearly impossible for other plants to coexist. Large infestations can alter the normal fire regime of a fire-driven ecosystem by causing more frequent and intense fires that injure or destroy native plants. Cogongrass displaces a large variety of native plant species used by native animals (e.g., insects, mammals, and birds) as forage, host plants and shelter. Some ground-nesting species have also been known to be displaced due to the dense cover that cogongrass creates.

For more information about cogongrass and other invasive species visit our Invasive Plant Database, and read this article by Jim Miller.
Events and News
If you would like your invasive species events listed in the next iWire, please send an email to Travis Gallo at tgallo@wildflower.org with your email address. You will then be solicited for news or events once a month prior to the creation of that month's iWire.

Welcome New Comal County and Pineywoods Invaders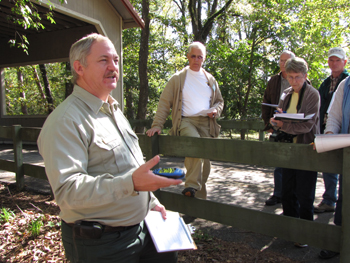 This October we had the privilege of revisiting two existing satellites to train new members and some veterans needing a refresher course. On October 17th, the City of New Braunfels hosted a workshop for the Comal County Invaders, and on October 24th, the Texas Forest Service hosted a workshop for the Pineywoods Invaders. Both locations were beautiful with great people. Lets give a big warm welcome to the new additions to the Comal County and Pineywoods Invaders. Start looking for those satellites to be revived!
Outstanding Citizen Scientist
Cheryl Hamilton and her Invaders teammates get the Outstanding Citizen Scientist recognition this month. Cheryl has recently reached the mark for entering 200 observations all while trying to eradicate each species she reports. Not all the credit can be given to Cheryl alone, since she always works in a group with folks like Diane Fey, Lonnie Shockley, Matthew Fey, Wendy Cooley, Megan Stacy, and others. Great job Cheryl and the other San Antonio Invaders, you all are doing a great service to your natural areas. Keep up the great work!
Upcoming Citizen Science Workshops
Currently there are no confirmed workshops scheduled. If you are interested in hosting a workshop, please visit our Workshops page.
A million thanks to everyone that has been hard at work reporting in their area. With your continued hard work and support we can all help "Stop the Spread".