iWire September 2009

Call for Papers - Texas Invasive Plant & Pest Conference
November 13 & 14, 2009 - Trinity University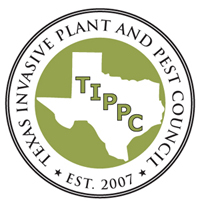 Abstracts are currently being accepted for oral presentaion and poster presentations. Each contributed presentation or poster requires an abstract. The deadline for abstract submission is October 12th. For more information about the 2009 Conference please visit our Conference web page.
Help strengthen USDA screening of plant imports
Invasive plants take a tremendous toll on the country's environment. Many degrade ecosystem services, such as flood control, water supply, fire protection, and pollination. Preventing such species from entering the country is much more cost effective than trying to control them once they are here. The USDA, which is responsible for screening plant imports, has released new "Q-37" guidelines for review, with comments due Oct. 21, 2009. Some will resist this proposal, so it is critical that people voice their opinion. Please visit the California Invasive Plant Council's website for more information, talking points, and a link to the public comment forum.
Native Plant Week Activities
On October 27th, the San Antonio chapter of the Native Plant Society of Texas will host author Matt Warnock Turner who will discuss his recently released book, Remarkable Plants of Texas: Uncommon Accounts of Our Common Natives. Program is free to the public and starts at 7:00 PM at the Lions Field Adult Center, 2809 Broadway, San Antonio, TX. Refreshments will be served. Come early, seating is limited. Everyone welcome! For more information, please visit www.npsot.org/sanantonio

The San Antonio chapter of the Native Plant Society of Texas will hold informational sessions at local nurseries to increase the public's awareness of Texas native plants as landscape options. The public is invited to visit the six participating nurseries to talk with NPSOT-SA members and Master Naturalists about using native plants and receive literature on how to grow them. For more information please visit the San Antonio Native Plant Society's website .
Biodiversity Without Boundaries Conference 2010
The NatureServe Conservation Conference 2010: Biodiversity without Boundaries will explore the issues and solutions to these and related conservation needs on several fronts: the science behind the pressing problems, the information and expertise needed to direct decisions, the tools and methods for setting priorities and tracking progress, and the lessons learned from conservation success, collaboration, and leadership approaches.

When: April 26-28, 2010
Where: Austin, Texas
More infor: Biodiversity Without Boundaries
Spotlight on an Invasive: Tree of Heaven (Ailanthus altissima)
Tree-of-heaven (Ailanthus altissima) was first introduced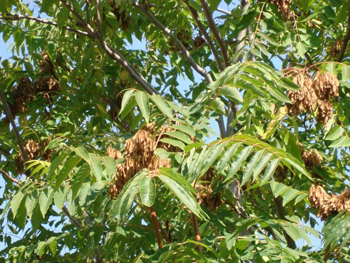 to the United States by a gardener in Philadelphia, PA, in 1784, and by 1840 it was commonly available from nurseries. It is a rapidly growing, deciduous tree in the Simaroubaceae family. Mature trees can reach 80 feet or more in height. Tree-of-heaven has smooth stems with pale gray bark, and twigs which are light chestnut brown, especially in the dormant season. Its large compound leaves, 1-4 feet in length, are composed of 11-25 smaller leaflets and alternate along the stems. Each leaflet has one to several glandular teeth near the base. In late spring, clusters of small, yellow-green flowers appear near the tips of branches. Seeds are produced on female trees in late summer to early fall, in flat, twisted, papery structures called samaras, which may remain on the trees for long periods of time. The wood of tree-of-heaven is soft, weak, coarse-grained, and creamy white to light brown in color. All parts of the tree, especially the flowers, have a strong, offensive odor, which some have likened to peanuts or cashews.

Tree-of-heaven is a common tree in disturbed urban areas, where it sprouts up just about anywhere, including alleys, sidewalks, parking lots, and streets. Away from cities, it is commonly seen in fields, and along roadsides, fencerows, woodland edges and forest openings. Nationally, it has become an agricultural pest and may occur as seedlings that pop up by the hundreds in recently planted fields, or as persistent thickets in rocky, untillable areas. Once established, it can quickly take over a site and form an impenetrable thicket pushing out native species. For more information visit our Invasive Plant Database.

Upcoming Events

Invasive Removal and Creek Restoration
When: Saturday October 17, 2009
Where:Blunn Creek Preserve, 1100 East St. Edward's Drive, Austin, Texas
Contact: dtodd@wt.org, Blunn Creek Parntership

If you would like your invasive species events listed in the next iWire, please send the event details to Travis Gallo at tgallo@wildflower.org. If events are well into the future we will publish them each month leading up to the event, so please send any event you would like posted.

Welcome Rolling Plains Invaders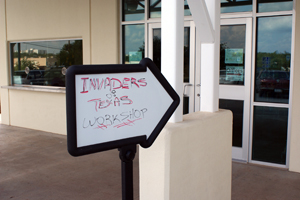 On September 19th, we had the priveledge of traveling to Wichita Falls to teach an Invaders of Texas citizen science workshop at the beautiful River Bend Nature Center. The weather was great, the people were great, and their new butterfly observatory was amazing. The new Rolling Plains Invaders have already gotten to work adding critical observations to an area where Invaders have yet to roam. Welcome Rolling Plains Invaders!
Reporting throughout Texas
Some citizen scientist have reported being confused about the area in which they can report invasives. To clear up that confusion, you can report anywhere you would like within the state of Texas. Although you are part of a satellite and your satellite has a locally referenced name, it should not confine you to your local area. If you would like to report an infestation outside your area, please do! Your satellite is for creating a local network of fellow citizen scientist, keeping in touch and helping each other with identification, field trip planning, and any other local issues that may arise. You are all doing a great job reporting throughout the state, and valuable information is being gained from your all's hard work and dedication. Keep up the great work!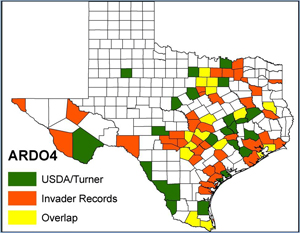 Updating distributions using Invaders of Texas data
Recently, the Invaders of Texas program coordinator, Travis Gallo, gave a presentation at the Texas Plant Conservation Conference titled "Using citizen science data to update the distribution of some key invasive plants in Texas". The data came from your all's hard work and observations. Some of the prelimenary results show that you all have reported Arundo donax in 67% more counties than previously recorded. Referring to the map on the right, any counties colored orange are newly reported counties from the Invaders of Texas program. Keep up the great work!
Upcoming Citizen Science Workshops
There is currently one workshops scheduled for any new citizen scientist needing training, or any veteran Invaders that could just use a refreshers course. If you are interested in attending one of the following workshops, please visit our Workshops page to contact the workshop host and find more information.
Saturday October 17, 2009
9:00am-4:00pm
New Braunfels, TX, Comal County Extension Office
A million thanks to everyone that has been hard at work reporting in their area. With your continued hard work and support we can all help "Stop the Spread".